Botox® Cosmetic Treatment in Northern Colorado
Get Younger Looking Skin While Preventing Future Wrinkles Today
Glowing Skin Is Always In
Looking to effectively reduce skin wrinkles and get younger-looking skin within minutes? Seven Tree Aesthetics offers Botox® services in Northern Colorado that will help you achieve beautiful, glowing skin in no time. Our highly trained estheticians and medical specialists will help determine a treatment plan that is tailored to your specific needs. For smooth, flawless skin, contact Seven Tree Aesthetics and begin your Botox® treatment today.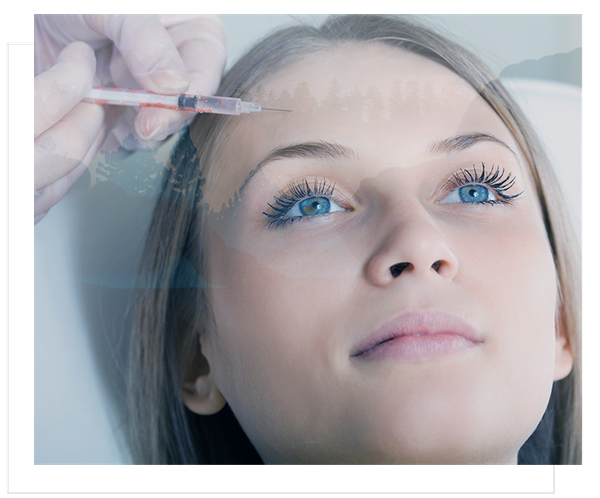 Benefits of Botox® Treatment:
Quick, ten-minute treatment

FDA-approved for reducing frown lines and wrinkles

Noticeable results within 2 weeks

Safe, predictable, and subtle results

Minimal downtime after treatment
What Is Botox®?
Botox® is an FDA-approved medication that works to reduce fine lines and wrinkles. Not only is Botox® highly effective, but it is also a safe and trusted procedure. The entire treatment takes approximately ten minutes and is non-invasive. Using a very fine needle, our highly-trained Physician Assistant will inject Botox® into the muscles that are responsible for making facial expressions. You will still be able to smile and make facial expressions as normal, but your skin will appear smoother and your wrinkles will be visibly reduced.
If you are interested in Botox® services, you can trust Seven Tree Aesthetics to give you the treatment you deserve. Our medical spa was founded by board-certified and state-licensed physicians with more than three decades of experience. Reach out to our team of experts for glowing, beautiful skin today.
What Should I Expect During and After Botox®?
If you are getting Botox® services for the first time, you might be wondering what to expect during and after the procedure. Seven Tree Aesthetics is here to give you an idea of what to expect during and before your Botox® treatment.
It is important to understand that Botox treatment is not one big injection, but actually several injections that can be placed in various areas. They can be placed on your face, neck, or even your underarms. The amount needed varies from person to person. The whole procedure will take approximately ten minutes and most patients report minimal to no pain. The effects of Botox® can last anywhere from three to six months, depending on the treatment you receive.
After receiving your Botox® treatment, you should avoid strenuous exercise for 24 hours, avoid rubbing or massaging the injected areas for at least four hours after treatment, and avoid excessive alcohol consumption. You may experience bruising, bumps, or a mild headache after receiving Botox® services. For the majority of patients, these side effects are very minor and temporary. Reach out to Seven Tree Aesthetics for any questions regarding side effects or what to expect during your Botox® procedure.
Our Physician Assistants at Seven Tree Aesthetics always strive to make you feel as comfortable as possible during your Botox® procedure. Get smoother, glowing, younger-looking skin today. Reach out to our team of medical professionals at Seven Tree Aesthetics today.