Laser Skin Resurfacing in Northern Colorado
Reduce Skin Impurities With Laser Skin Treatment
Discover Ageless Skin With Laser Skin Treatments
No matter how well you take care of your skin, impurities will begin to show up over time. Whether it's sunspots, wrinkles, scars, or other issues, Seven Trees Aesthetics can help. At our Northern Colorado med spa, we offer laser skin resurfacing which is an advanced treatment that can help you achieve softer, smoother, and younger-looking skin. Contact us today to learn more or to book an appointment!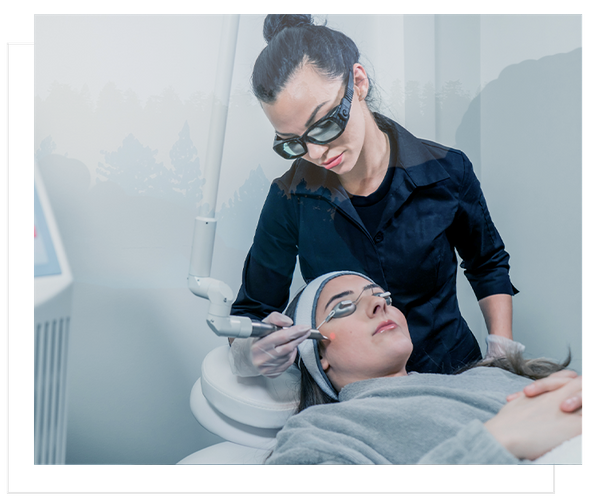 Problems That Laser Skin Resurfacing Can Treat:
Age spots

Fine lines

Deep wrinkles

Uneven pigmentation

Large pores

Stretch marks

Scars

And more!
What Is Laser Skin Resurfacing?
Laser skin resurfacing is a type of skincare procedure performed by our med spa experts that involves the use of lasers to improve skin appearance and texture. At Seven Tree Aesthetics, we use a fractional non-ablative laser, which requires little to no post-treatment downtime. Non-ablative services may require a series of treatments over the course of weeks or months.
Laser Skin Resurfacing
Laser skin resurfacing is a non-invasive treatment that can be completed in about 30 minutes to two hours, depending on the specific technique used, as well as the current condition and texture of your skin. A topical anesthetic medication is applied for approximately 45 minutes prior to treatment.
Recovery time for non-ablative treatments is minimal, and you can return to your normal skincare routine right away. Any discomfort can be treated with a cold compress or pain relievers, such as Ibuprofen or Acetaminophen.
For any questions or to schedule an appointment at our Northern Colorado med spa, reach out to Seven Trees Aesthetics today!