Eyebrow Waxing and Tinting in Windsor Colorado
Get Picture Perfect Brows In No Time
Shape Your Brows to Perfection
Are your eyebrows looking unruly? Are you tired of having to draw in your eyebrows every day? Seven Trees Aesthetics offers eyebrow waxing and tinting at our Windsor Colorado med spa, so you can wake up with your brows ready to go! Our licensed estheticians take the time to make sure your eyebrows are on point. Our fabulous and instantly flattering waxing services will help create a shape that fits your face, while our brow tinting will ensure your brows look effortlessly flawless from the time you get out of bed every day! Contact us to learn more about our med spa services or to book an appointment today!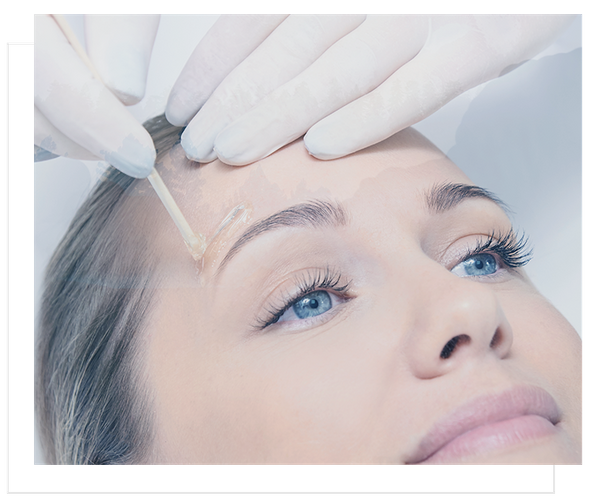 Benefits of Eyebrow Waxing and Tinting:
Give your eyebrows a pleasing shape

Give your face an overall lifted look

Match your eyebrow color to your hair color

Toss your eyebrow pencil for a more natural appearance

Help lighter brows stand out with tint

Make your eyes appear brighter
What Is Eyebrow Waxing and Tinting?
Eyebrow waxing is a method of removing unwanted hair around your brows using wax. After the wax is applied, a cloth strip is placed over it and pressed down firmly. After a few seconds, the cloth is then quickly pulled off in the opposite direction of hair growth. Our licensed med spa experts will then trim or pluck your brows to give them a nice, clean finish.
Eyebrow tinting involves the use of a semi-permanent dye to enhance the color, shape, and thickness of your eyebrows. It can be especially helpful for those who over pluck their brows, as it can add volume. Our experts will choose a color for your brows based on your preference, hair color, and complexion.
What Should I Expect During and After My Eyebrow Wax and Tint?
Eyebrow tinting and waxing are relatively quick services that are non-invasive and show instant results! During the eyebrow wax, there may be some slight discomfort, but it should only last a second or two and is generally quite tolerable. If you're on skin medications such as Accutane or retinol creams, please call our office located in Windsor Colorado prior to scheduling your appointment.
Eyebrow tinting is a simple procedure that is painless.
To learn more about eyebrow waxing and tinting, contact Seven Trees Aesthetics today!